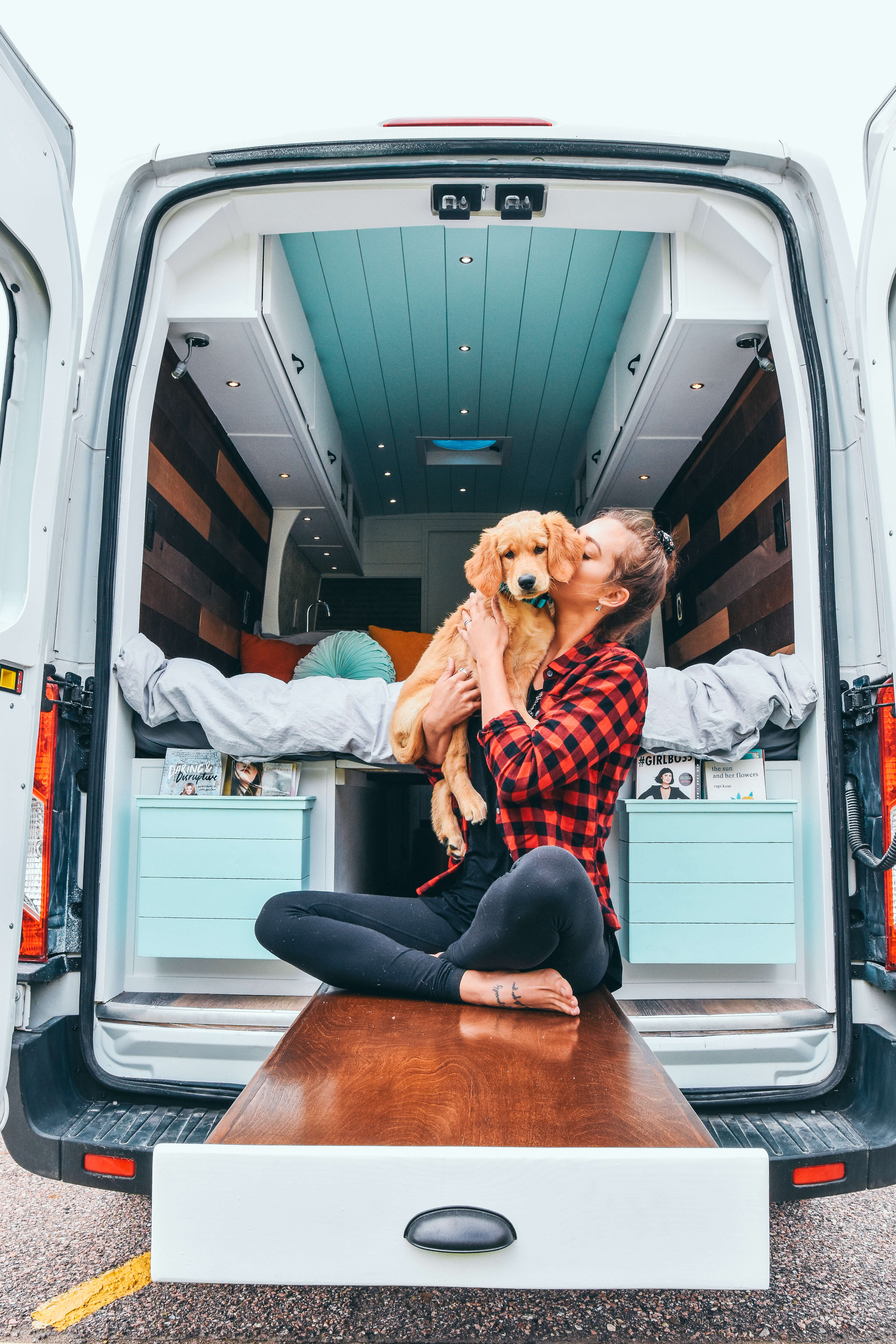 Living in a van means having limited space which means limited material things. I can tell you first hand that there are a lot of gifts out there that just won't get used or aren't necessary for a minimalist. You want to get your loved ones a present that will be appreciated and can actually be used! So I came up with a list of items that I know for a fact would be awesome for any van dweller. These are small, functional things that any traveler would be happy receive. I went ahead and separated it into three sections: My Top 5 Gifts, Budget- Friendly Under $20, and specifically For Entrepreneurs & Digital Nomads on the road. If blog posts aren't your thing, listen to my podcast all about it!
LISTEN TO MY PODCAST ALL ABOUT SOLO FEMALE VAN LIFE
Anyone on the road needs to have one of these! There isn't always a stronger to bail you out of trouble when the van breaks down. This has the power to jump the van, comes with the jumper cables, has a 3 year warranty, and can be used as a phone charger when needed. Hands down the best gift for someone traveling in a van!
This compact set with pots, a pan, bowls, a plate, and much more is the perfect gift for anyone who spends a lot of time outdoors. It's hard to make everything you need fit in such a small space so this stackable set of cookware is perfect for a van or thrown into a backpack for a hiking trip.
We all take photos on our phones and digital cameras but it's awesome having a polaroid camera in the van to capture a moment and have it right then. The polaroids are a great way to decorate the van or hang somewhere to remember the best times on the road. This camera takes regular size polaroids too which I like so much better than the minis.
Besides just being convenient for walking around or while driving, having a portable phone charger is always a good idea. This can be a major safety precaution if someone is out hiking and gets lost, needs to use maps, or make an urgent phone call. I can't tell you the number of times my phone died at such a bad time before I bought one these. Anyone can use one of these!
LISTEN TO MY PODCAST ALL ABOUT VAN LIFE & BEING ON THE ROAD
The Jetboil is a great tool for anyone who loves to hike or be outside often. It's small so it won't take up any space in the van and it's the most convenient way to cook outdoors. It can boil water in a matter of seconds and can be thrown into a backpack super easily. 
I have two of these blankets in the van and people always ask where I got them. They're super cheap but look really nice and come in so many different colors. I use mine for decor, while I'm doing yoga, and to add a little warmth in the cold. These blankets are such a cute gift for anyone who loves their van to have a home-y feeling.
A lot of travelers enjoy writing about their experiences or even their personal lives. This journal is a great guide with different prompts to get you thinking about all kinds of sensitive topics. It's super personal and can be a really wonderful gift for someone you love and know would appreciate something thoughtful. There are inspirational quotes, prompts, activities, etc. that can get you thinking creatively. I actually like using these sometimes even for Instagram captions or blog posts when I have writer's block.
Traveling on the road in the US means you go to a lot of different states. They make these maps for other countries as well but this one is made specifically for the States. It starts as the solid color and you scratch off the where you travel to bring out all the fun, crazy colors. It's just an interactive way to see where you've been and where you still have to go! Makes for great van decoration too.
If you've seen the movie UP, you may remember the Adventure Book that Ellie has in the beginning and is shown throughout the movie. You can actually buy your own adventure book now and document your travels! The pages are exactly like the movie and is very scrapbook-esque. I have one and love taping in polaroids from where I go on the road.
GIFTS FOR THE ENTREPRENEUR
This is by far one of the best books I've read when it comes to entrepreneurship. Lisa Messenger does a great job of giving really useful information and also being super relatable. Giving books as a gift is great way to keep the cost low but also be personal. You can write inside the book to your loved one and let them know why it made you think of them.
Business of Blogging Course
If you want to spend a little more on someone who is trying to build a business, one of these courses would be perfect. This one is all about blogging and affiliate marketing. It's done by Nomadic Matt who is one of the top travel bloggers in the world. We usually don't like spending this money on ourselves for something like a course, but it's vital to growth as a startup business (which is why I recommend it as a gift!).
Learn How to Master Instagram
Using Instagram as a business can be really difficult to master and knowing what kind of photos do well is really hard to learn. If someone you love is interested in photography and is looking to get better, this course would be really good for them. It teaches all about the settings, how to frame different shots, what to do with lighting, etc. It isn't Instagram specific but a major part of that is the photography. So this course helps tremendously.
Done by two women who have made a full careers on Youtube and video campaigns through their videography, this course walks you through everything you need to grow on Youtube as well. I'm telling you as an online entrepreneur, a course that helps with this stuff is an amazing gift. We often hesitate to invest money into our business but that's what needs to happen in order to learn the right way. If you've been wanting to help a loved one out with their business, this is the way to do it.
The post Best Gifts for Van Dwellers | Van Life Gift Guide appeared first on Divine On The Road.