"Vanlife looks so easy! It's like being a migratory bird!"
Someone once said this to us as a joke, but they maybe didn't know how true it is. Many vanlifers quite literally adopt the role of our feathered friends by chasing mild weather around the continent. Mexico in the winter, Arizona in the spring, Washington in the Summer, and Utah in the fall. Keeping yourself in perpetually pleasant weather isn't particularly hard for those living full time on the road.
But if you're pursuing vanlife for the dirtbag or ski bum perks, chances are you're going to find yourself in some pretty chilly situations.
If you find yourself experiencing the joys and pains of van life in winter, it's important to be prepared with all the winter van camping essentials.
---
Navigation for Winter Vanlife Essentials
Camper Van Heaters
Winter Road Safety Essentials
Other Essentials for Staying Warm and Dry
---
CAMPER VAN HEATERS
The most obvious of essential items for winter vanlife, which is why it's also the most complex.
Choosing the best heater for camper vans is one of the most controversial topics among the community. Diesel is too expensive! Propane is too dangerous! Who needs heat when you have a dog and a sleeping bag?! The arguments are endless.
Point being, vanlife heater recommendations come with a lot of nuance, which is why we dive far deeper into the subject in our other article. Here are just a few camper van heater essentials you can consider but click here to read all about these (and more) different heaters.
---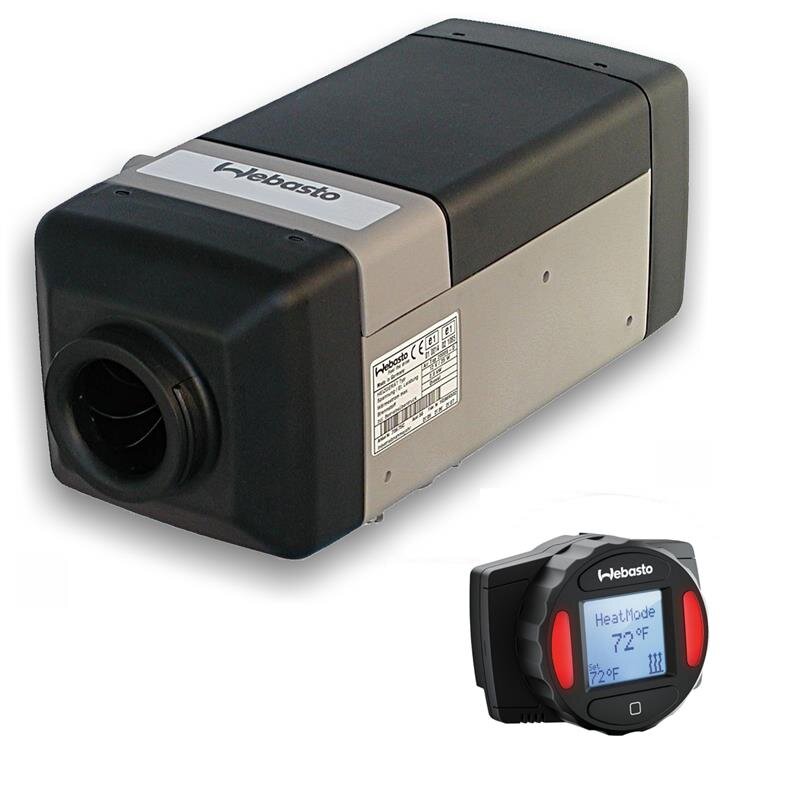 Diesel Heater
If your van runs on diesel, a diesel campervan heater may be the best choice. In this class, Webasto Heaters are THE best.
The Webasto is a diesel heater that taps into your van's fuel tank. That way, you don't need to worry about two separate fuel sources (though make sure you don't accidentally run your fuel tank dry!).
Those with gasoline powered vans, fear not; they've started making these tank tapping heaters for us, too. These gas heaters (like the Espar Airtronic) are just quite a bit harder to find still.
The downside to gas and diesel heaters is that they require quite a bit of installation, including cutting vent holes in your van.
Find it here: Amazon
---
Portable Propane Heater
The cheapest and easiest form of heat for camper van winters are portable propane heaters (just be sure to vent them to prevent carbon monoxide poisoning!).
Again, there are tons of options to choose from but avoid any that use the single-use green canisters if you can, as that will get expensive and wasteful very quickly. Instead, look for those that use full-sized refillable propane tanks, even if you have to sacrifice a little more space in your van for the tank.
We use a Mr. Heater Mr. Buddy paired with a 5-gallon propane tank and connected via a propane tank adaptor hose.
Find it here: Amazon
---
Electric Space Heater
The best electric heater for camper vans is a low power heater, or the lowest amp space heater you can find.
As a campervan heater looking to conserve energy, 12v space heaters are better than even the most 120v space heaters, though 12v models are few and far between. You may need to just settle on a compact 120v space heater (which is what we have)
Still, use sparingly and generally only when you have access to shore power (RV park, etc). Even with a high efficiency electric heater, you still can't run it for very long without shore power. Even with a higher conversion rate monocrystalline solar panel, you simply won't be getting enough sunlight to consistently keep those batteries charged enough for full time electric heat.
Find it here: Amazon
---
SAFETY ESSENTIALS FOR WINTER ROADTRIPS
Vanlife safety is always an important thing to consider, even more so when the elements are harsher and less forgiving. When a worst case scenario leaves you stuck and freezing to death in the middle of nowhere, it's important to be prepared for the worst.
---
Snow Brush
Every van, RV, converted Subaru, and everything in between needs a snow brush. It's not just for your safety, but for everyone around you. Just because your heat melted your windshield clear doesn't mean snow on the top won;t blow back and visually impair other drivers around you.
But to clean the top of a camper van, you need a BIG brush.
We were gifted the 5-in-1 Snow Brush and Ice Scraper from BougeRV. Not only does it's telescoping handle extend to 47″, the head swivels so we can actually scoop at least most of the snow off the roof.
The other side of the brush head is a squeegee so you can also use it for cleaning your windshield when the gas station only has the short brushes. And if you really need to give your van a bath (for instance, to wash all that corrosive salt from your undercarriage at winter's end), you can use the squeegee to clean your whole vehicle at the car wash.
It all comes with a set of gloves and a neat little carrying bag to keep all the components together.
Find it here: BougeRV (use code "snowbrush" for a discount)
---
Tire Chains
Wondering "how to winter roadtrip with no snow chains?" Stop. Just get the chains. They're not that expensive and they can be literally lifesavers. For once just don't be a dirtbag and get yourself some tire chains.
For those who have never used or purchased tire chains before, you only need to buy two, to be equipped wherever your drivetrain is. Front wheel drive vans (like ours and other Promasters) should chain the front tires, rear wheel vans chain the rear tires, and dealer's choice for 4WD vans (though it's generally recommended you chain the front, especially considering the rear of your van has the most weight).
Buying chains is actually pretty simple. Buying tire chains online is probably the easiest, especially at sites like Amazon which allow you to input your exact vehicle then brings up all the relevant products.
Buying in an actual tire store, however, isn't difficult either. All you have to know is your tire size. Just tell the salesman your size and they'll bring out exactly what you need (and teach you how to use them if you ask nicely).
Speaking of, learn how to use them before you have to. Don't be lazy like us because take it from us, learning in the thick of it makes an already stressful situation even worse. Practicing putting a chain on and off is not only a good way to get confident for these situations, but will also help you find any potential tangles in the chains before your fingers are too numb to untangle them (again, first hand experience there).
Find them here: Amazon
---
All Season/Winter Tires
First off, you do not NEED winter tires. We spent an entire winter with the sad factory tires on our Promaster and it was fine. As much as we would have liked to have them (if for no other reason than peace of mind), it wasn't in our budget yet. So if it's not in yours, just make sure you definitely have chains. Even with bad summer tires, we only ever needed to chain up a handful of times.
However, if you plan on spending a lot of time on wintery roads at high elevations, they're definitely nice to have. While winter studs provide the best winter traction, they're often not practical for the vanlifer unable to store the tires currently not installed. For that, an all-season or winter studless tire (that you can legally keep on year round) is best.
From pre-van experience with all-season tires, Bridgestone Blizzacks are the clear winner. We kept these on our 2WD car year round while living in Alaska.
Again, it's actually easy to buy tires online at sites like Amazon, which again will bring up a whole search of those for your vehicle.
Find them here: Amazon

---
Portable Battery Jumper
If you're doing van life in the winter, you NEED a portable jumper on hand. We used to believe having cables were enough, but after realizing we spend a lot of time in areas where no one is around, we decided to turn to a self-sufficient alternative.
Portable battery jumpers are these nifty little boxes you charge up (through a DC port while on a long drive, for instance) that you connect to your battery and it jumps, no other vehicle required. Surprisingly, they don't cost that much either, with decent ones available for less than $100.
Just be sure to pay attention to the power output and capacity when shopping. The cheapest ones are those with minimal output (600-800A) designed for small batteries. You want something with a bit more power (2000-2200A range). The more juice, the more it's able to power high-liter engines. If you have a diesel, you'll especially need one of the more powerful ones.
Find it here: Amazon
---
Traction Boards
If the road is supremely icy or you get your tires buried in snow (but don't think you'll need chains if you "can just get out of this one spot", traction boards can help. We never realized how amazing these are until we got stuck without them on hand and spent 4 hours using rocks and sage brush to build a pathway out. The same applies for snow.
Again, there are a lot of brands making these now, but MaxTrax are a tried and true model. These babies are extremely heavy duty and many vanlifers swear by them.
Find them here: Amazon
---
Shovel
No this isn't for shoveling your "front yard" (…although you may just end up using it for that). This is for digging out your van if you get snowed in.
The collapsible shovel by ust is the best we've found (and we've tried and tossed a few different ones along the way). It's made of durable lightweight metal yet has a wide blade and spacious scoop to actually move a decent amount of snow. The handle telescopes into 3 sections so it stores super small but delivers a lot of torque in action.
Find it here: ust
---
Rock Salt
If you've ever been stuck in snow, you probably know that gassing your vehicle will result in ice under the spinning tires quickly, compounding the issue. Keep a small jar or coffee can of rock salt on hand to melt ice from under tires when necessary.
Make sure it's eco friendly pure salt (like this) so that it won't harm pets, animals, or nature.
Find it here: Amazon
---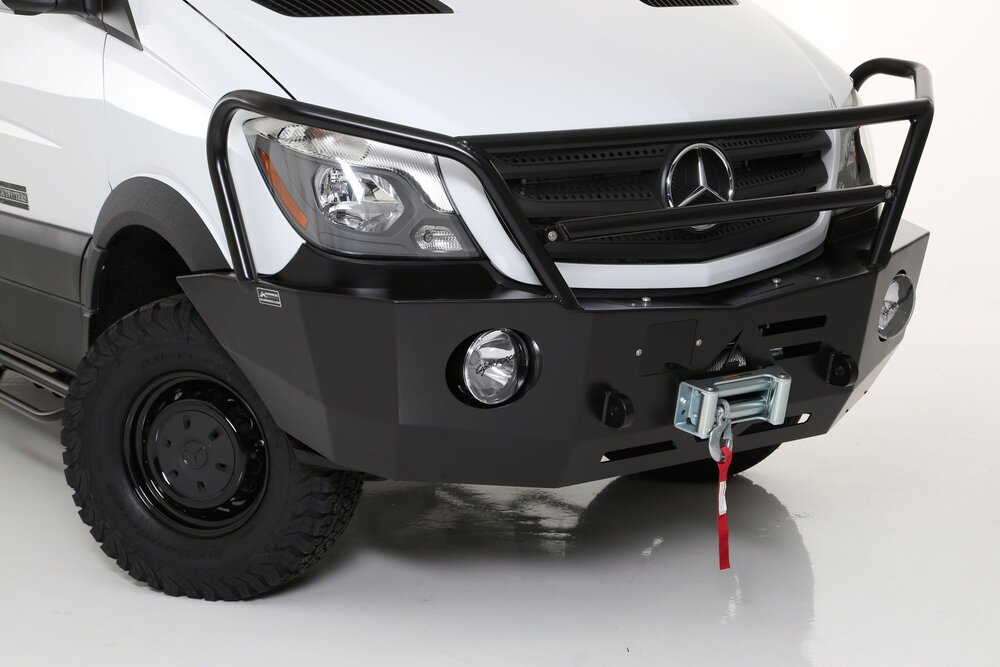 Winch
When in doubt, winch yourself out! Winches aren't cheap but they're cheaper than a tow.
If you decide to equip your van with a winch (which is especially a good idea if you also like to test its offroad limits regardless of season), make sure it's designed for such a heavy vehicle.
We're talking heavy duty, like a 17,500 pound one!
"But hark! My van doesn't weight that much! Surely I can save money by getting a smaller one." Remember, you're not only pulling the heavy weight of home (which you hopefully know- if not, make it a priority to stop at a weigh station!), but fighting against whatever forces are keeping your van stuck.
Also be sure to upgrade your winch with a snatch block, which is essentially a heavy duty pulley that significantly increases the winch's pulling power. In the right situation, they can actually fully double the hauling capacity.
If a winch is out of your budget range, at least carry some form of tow strap or tow rope so you can be towed out by strangers if possible. Pro tip for climbers looking to retire their old climbing ropes: Climbing ropes can withstand a tremendous amount of force!
Find it here: Amazon
---
Roadside Assistance Membership
If all else fails, it's nice to have a roadside assistance membership to fall back on. Whether you need a jump, a new battery, a tow, or whatever, these are literal lifesavers.
We personally use Good Sam Roadside Assistance because it provides comprehensive roadside assistance for ALL vehicles and trailers involved, towing, tire and wheel road hazard coverage, and emergency medical at an affordable price ($239.95 a year with the Platinum Package).
Your insurance company might also offer some form of roadside assistance but make sure you read the policy and know what is and isn't covered.
---
OTHER WINTER VAN CAMPING ESSENTIALS FOR STAYING WARM AND DRY
While these items may not be life saving, they sure do make living in a van in the winter a lot more comfortable!
---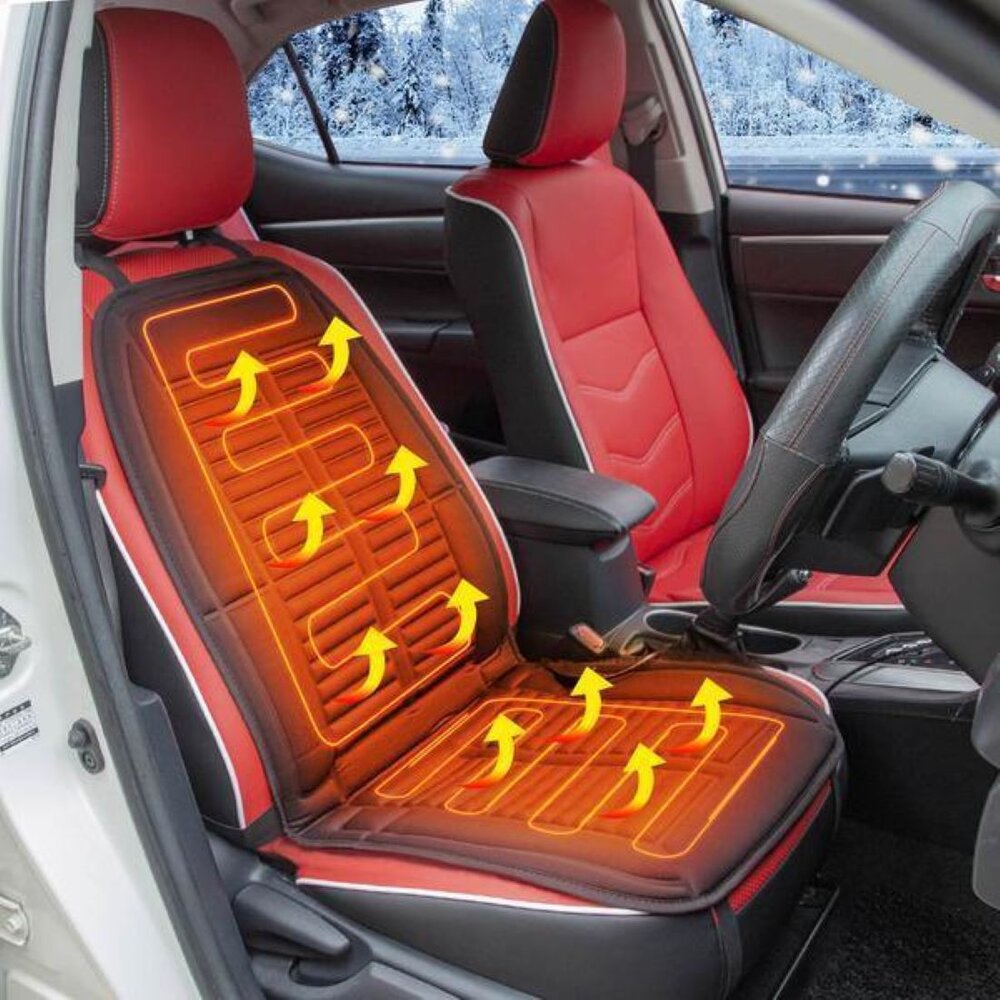 Portable Heated Seat Covers
Most camper vans (unless you have a swanky new model) don't come with heated seats. Big bummer, because winter van camping is a lot more pleasant if you can melt away the cold on your drive to get some après-ski alcohol.
Upgrade your cold seats with a heated seat cover. This is another product from BougeRV we were gifted and boy oh boy do we love it. The BougeRV heated seat cushion attached to any seat using a velcro strap around the back and heats super fast (in a minute or two) via any DC outlet. It features low and high settings (ranging from 86°F to 140°F)/. Don't worry it doesn't feel THAT hot and it features ana auto shutoff in case it heats up a little too much.
What's great about it though is that it can also flatten out, meaning you can move it around your van to other seating and even in bed! If you, like us, have a DC outlet right next to your bed, just plug it in and enjoy a toasty night's sleep.
Find it here: BougeRV (use code "AFFBJ30" for a discount)
---
Clothing For Winter Van Camping
If you only buy one thing from this list for winter van life, let it be the Teva Ember Mocs (okay, AND tire chains and seat warmers).
If we had $1 for every article we found a way to gush about these shoes, we probably could afford to buy a house. And we are not sponsored by Teva in any way, we just genuinely want to spread the joy of these camping slippers.
While Chris and I talk more about some specific garments we love in this article and this one, here are a few general winter-specific vanlife clothes you should own:
---
Puffy Blanket
For those days and nights when layers aren't enough, get a puffy blanket. Rumpl originated the Puffy Blanket and while others have since some into being, theirs are still widely regarded as the best.
We personally love them because you have the choice to buy eco friendly versions. The Rumpl Recycled line uses "bottle to blanket" technology to turn discarded plastic bottles into a fully recycled puffy blanket. Even their down versions source feathers from humane channels.
Find it here: Rumpl / Rei
---
Windshield cover
Scraping the windshield is the hardest part of cleaning off your car. Avoid it entirely by keeping moisture off your windshield with an external shield. This Universal Windshield and Side Mirror Snow Cover easily hooks on to the wheel wells of any vehicle and keeps moisture from building up and sticking on to the windshield.
It will also keep some of the heat from inside from escaping through your windshield.
---
Spray De-Icer
If you don't want to get an external cover (or are in an area where you think it might get stolen), you can also make de-icing your windshield easier with a de-icing spray.
Any vanlifers with sliding side doors should consider having a can on hand as well. Occasionally, the metal runner can freeze and your van door can get frozen closed, but these de-icer sprays remedy that, too.
Find it here: Amazon
---
Insulated Window Covers
Windows are a huge heat suck. The more windows in your van, the more heat you'll lose (which is one of the reasons we opted for a windowless cargo compartment).
There are things you can do to prevent heat loss through glass, however. Curtains being the most obvious (though minimally effective). The best option is to invest in some insulated window coverings. Aside from mainstream retailers, you can also find these handmade by small businesses, like Etsy's Stelletek
Be warned, though: they don't come cheap. If you're feeling particularly crafty and want to save some money, you can also make your own DIY camper van window covers out of fabric and Reflectix.
---
Fan Insulator
Another sneaky place heat can escape if through your vent fans. A simple plastic shield doesn't really seal in much heat. Covering the space with an RV vent cover (particularly one with a thermo reflective side) will significantly reduce the amount of heat lost.
They're multi purpose, too, having the ability to dampen noise and keep light out.
Find it here: Amazon
---
Boot Dryer
In a cold van, you'll find your footwear doesn't dry as quickly as it might in a larger, more well heated space. That's why having a boot dryer on hand is important, especially for those who will be doing any amount of skiing, snowboarding, or other winter pursuits.
We like the DryGuy Travel Dry DX Boot Dryer and Shoe Dryer because it can run on both AC or DC circuits. Just stick the nozzle in your boots and turn it on. Also works great on dry boots if you just want to warm them up a little bit before sticking your feet in.
Also make sure to keep your wet boots in a waterproof boot tray (or some form of moisture catching rug) so the dripping water won't rot your floor.
Find it here: Amazon
---
Dehumidifier
How do you deal with the moisture issues while camping in a van in the winter? Often times, van lifers don't.
If you live in an especially wet climate, the cold isn't the only thing all that dampness will bring. It'll create a breeding ground for mold, especially since any form of heat (even your breath) will lead to extra condensation buildup against the walls of your van when the body is cold. You should always leave a window or vent cracked to release of the moisture, but that's often not enough.
For that, a 12V dehumidifier comes in handy. The ALROCKET Dehumidifier has a 35oz build-in tank where it collects the moisture it draws from the air. All you need to do is empty the tank once it fills up. Just be mindful of how much you run it and how much electricity it's consuming since it does use a thermotech (aka heat) function to separate the air from the water.
Find it here: Amazon
---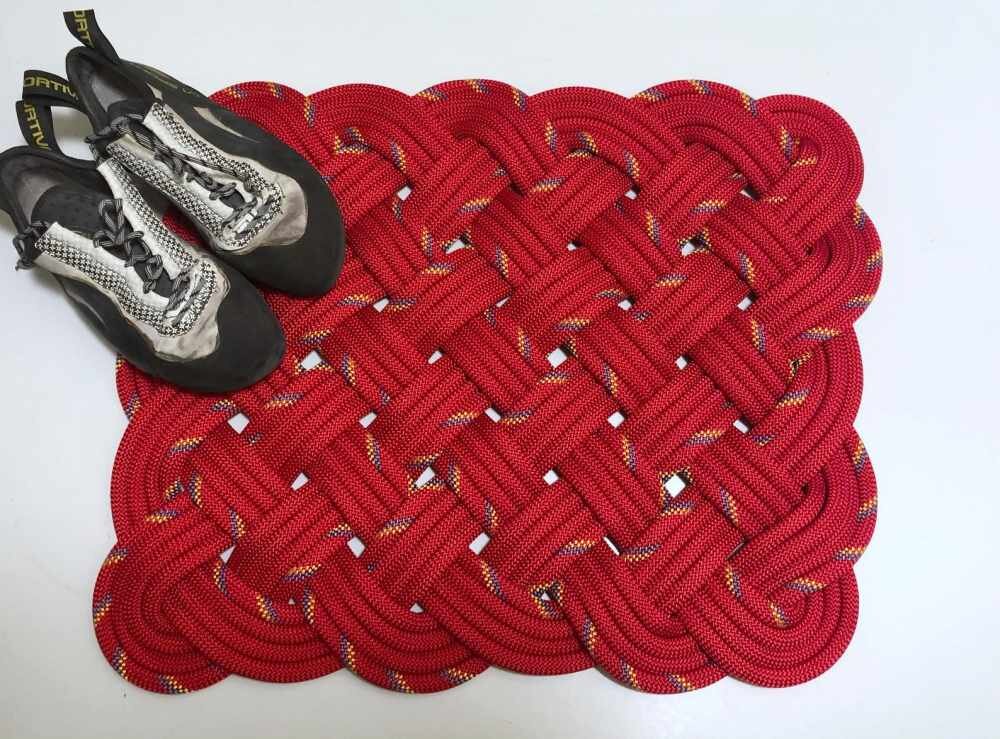 Rug
The single coldest part of our van is the floor. It's the area with the least insulation (which is perhaps why we think so highly of those slippers. We braved the cold floor for a very long time, until we found a discounted throw rug and discovered it made the van feel a lot warmer!
Just make sure your rug is durable and not a nightmare to clean. A recycled climbing rope rug might do the trick for instance… Just make you get the full benefit of the insulating factor by putting a layer of non-slip rug felt beneath.
---
Before You Drive Away…
We hope this guide has given you some helpful tools for surviving vanlife in winter. Be sure to check out our other two winter vanlife guides, one with all sorts of winter vanlife tips and other diving in depth on camper van heaters.
Please reach out with any questions, even if you're just wondering where to go is you're a vanlifer during the winter out west. Lots we haven't explored, but we can give you some starting points!
If any fellow van dwellers have products you feel really increases your quality of van life in the winter, please drop suggestions in the comments below.
---
**This post contains affiliate links to support the continued creation of these van life guides. This just means that if you purchase something from one of the links above, I get a small commission from the sale at no cost to you. Read more here or reach out with more questions.